Fast fashion international brand women's ME & KAR decoding fashion start wealth engine>
On the morning of May 20th, organized by ME&KAR, a fast fashion international women's brand under Meikara Clothing Co., Ltd., co-organized by AsFACE Production, China Garment Network, and China International Research Institute of Brand Management, "International Fast Fashion Trends and Development" "Wealth Forum and ME&KAR2010 New Products Conference for Autumn/Winter was held at the 1158 Live Distribution Center of Shanghai Mingshi Street Fashion and Creative Park.
Mr. Zhu Jie, General Manager of Meikara Clothing Co., Ltd., Cui Jianbiao, Chairman and CEO of AsFACE FASHION Investment Management Co., Ltd., Dai Bing, Director of International Consulting, China Research Institute, Januse, Product Consultant of Italian HI-FASHION Design Center, Yan Shen, Senior Marketing Management Consultant, and New Marketing Specialist Ge Jiaming, major media in the fashion industry, authoritative fashion designers, core team of ME&KAR brand, and VIP customers of ME&KAR brand participated in the event and witnessed a brilliant ideological storm and visual feast.

Mingshi Street Creative Park witnesses the return of fashion
With a total area of ​​19,000 square meters and a building area of ​​41,000 square meters, Mingshi Street Fashion and Creative Park has rapidly become a fashionable new landmark garnered by fashion brands from around the world, with a focus on the fashion industry and a unique concept of a new park. It is the only one of the 76 creative parks in Shanghai that has been awarded the "Shanghai Modern Garment Industry Small Business Entrepreneurial Base" by the National Development and Administration Commission.
On May 20th, after the "Shanghai Fashion Week 2007" was held in the Mingshi Street Fashion Innovation Park, the rise of ME & KAR, the Italian fashion and fast fashion international women's brand, was witnessed.

King's license dealers gather on the beach
Trump dealers and ME & KAR brands work together for a win.
More than 210 ace dealers from the conference come from major cities and regions in the country, such as Beijing, Tianjin, Shanghai, Hefei, Changsha, Harbin, Hangzhou, Nanjing, Luoyang, Chongqing, Urumqi, Xuzhou, Xi'an, Dalian, Qingdao and Shenyang. Chengdu, a total of 51 areas.

Fashion mainstream media are coming
Shanghai fashion, Shanghai TV, China Garment Network, i look world metropolis, MINA Mina, orange orange business, YOHO trend, China Fashion News and other fashion mainstream media have paid attention to and continuously report this event.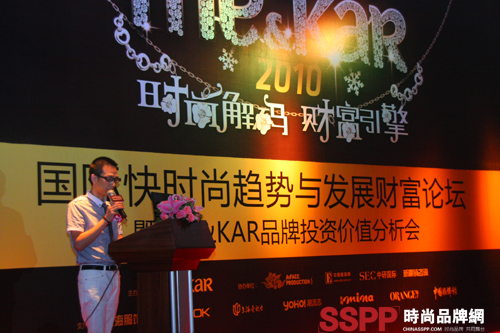 Mr. Zhu Jie, the General Manager of MEKAR Apparel Co., Ltd. and Mr. Zhu Jie, Founder of ME&KAR


The first wealth forum opened
Mr. Zhu Jie, the general manager of MEKAR Apparel Co., Ltd. and the founder of ME&KAR brand made an opening speech. In the speech, Mr. Zhu Jie solemnly announced to the world the vision of ME & KAR - to lead the value of fashion, to be China's most valuable women's brand. He believes that what ME&KAR wants to accomplish is a fast-growing and rapidly profitable brand. ME & KAR's brand positioning as a modern, elegant and fast fashion international women's clothing is to stand out among many traditional women's wear in China and occupy the commanding heights of future market trends.

Previous page 1 23 Next page